SPOILER WARNING!
This section contains spoilers for Layla the Vampire Slayer Season 1.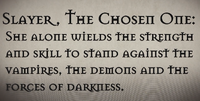 Layla the Vampire Slayer Season 2
is the continuation of the hectic events of Season 1, as the heroes move on from a chaotic autumn of 1997 into 1998...
Characters
Edit
Player Characters
Edit
Guest Characters
Non-Player Characters
Edit
See St. Thom Huell: Known Faculty for a complete list of staff
See St. Thom Huell Student Body for a complete list of appeared students
St. Thom Huell 1st XV Rugby Team
Edit
Rosewater Residents
Edit
Protagonists' Family
Edit
The above page and those linked below in this section contain major spoilers!
The Fates
Edit
Locations
Edit
Resources
Edit
Episodes
Edit
Playlist for Layla the Vampire Slayer
GamingFTL's Strange Adventures Campaign Vlog
Layla the Vampire Slayer Fan Art (out of date, check the Roll4It Twitter for recent fan art)
Layla the Vampire Slayer Fan Fiction (out of date, check the Roll4it subreddit for recent fanfiction)
Arc
Num
Air date
Name
Summary
VOD
New Year,
New Problems
1
April 1, 2018
Death by Chocolate
It's Friday 13th, the day before Valentine's Day, and some freak accidents occur...
YT, Twitch
2
April 8, 2018
Slayer x Slayer
Matters between Layla and Charity finally heat up...
YT, Twitch
3
April 15, 2018
Toilet Trouble
The team deals with a certain exegiency in the school toilets that requires an expedient remedy.
YT, Twitch
4
April 22, 2018
Battle for the Bathroom
Water and blood. Life and death.
YT, Twitch
Family
Problems
5
April 29, 2018
Axing Questions
The dangers of magic, and of dangerous enemies.
YT, Twitch
6
May 6, 2018
Pub Crawl
Barnaby must put his new investigative skills into work, as they don't know who to trust any more.
YT, Twitch
7
May 13, 2018
A Little Charity
Mistaken words, and drawn blades.
YT, Twitch
Bug
Squashing
8
May 20, 2018
Special Sisters
Two new transfer students arrive, and urgently need the gang's assistance for a life-or-death situation...
YT, Twitch
9
May 27, 2018
Ned Dead Redemption
A series of bad decisions in the past catches up to the team.
YT, Twitch*
Robots & Relations
10
June 3, 2018
Operation Best Friend
Yet another new transfer student appears, who immediately attaches to the team, who are immediately suspicious.
YT, Twitch
11
June 10, 2018
I, Robbie
Robbie must confront himself.
YT, Twitch*
12
June 17, 2018
Meet Your Maker
Time is running out, and it's in hours, not days.
YT, Twitch
Sins and Statements
13
June 24, 2018
A House Divided
The team grows, yet at the same time is weaker than ever...
YT, Twitch
14
July 1, 2018
Crisis
Robert worries his friends, and they try to see how to help him.
YT, Twitch
15
July 8, 2018
Sinful War
With two of their friends gone, Layla and what's left of her friends must deal with Wrath and Gluttony.
YT, Twitch
The Slayer's Burden
16
July 15, 2018
The Promise
A promise made nearly half a year ago is questioned.
YT, Twitch
17
July 22, 2018
Broken Faith
What ties bind?
YT, Twitch
18
July 29, 2018
A Fork in the Road
Field trip, and the consequences thereof.
YT, Twitch
Fallout
19
August 5, 2018
Buffy vs Willow
The gang forget something.
YT, Twitch
20
August 12, 2018
Don't Kiss and Tell
The guys attempt to have some fun amidst all the relationship issues they have.
YT, Twitch
21
August 19, 2018
God Damn Witches
Relationship issues abound, but Charity has not been idle.
YT, Twitch
Mail and Machinations
22
August 26, 2018
Knight Time
The party come under attack from militant LARPers.
YT, Twitch
23
September 2, 2018
Getting Medieval
The gents are besieged by a bunch of militant LARPers.
YT, Twitch
The Last Full Measure
24
September 9, 2018
Soulmate
The issue of Charity leds the team to take desperate measures.
YT, Twitch
25
September 16, 2018
Plans Laid Bare
With new allies in tow, the team tries to find how deep they're in.
YT, Twitch
26
September 23, 2018
Centre of the Spiral
With a centuries-old plan exposed, they must now race to end it.
YT, Twitch
27
September 30, 2018
The Price
Once more unto the breach...
YT, Twitch
Finale Aftershow
27A
September 30, 2018
LTVS S2 Finale Aftershow
YT, [Twitch]
Please note that episodes denoted by a * lack Twitch VODs due to technical difficulties encountered during the streams.
Main Cast
Edit